24option.com – Binary Broker Review
---
In today's exciting trading world, binary options trading is quickly growing in popularity.  24option.com is a professional yet easy-to-use platform for this form of trading.  24option.com, the world's largest binary options trading platform, stands out with a three-fold trading interface.
General Information:
Base of Operation: London, England
Original Release: 2008
Minimum Deposit: $200
Maximum per Option: $3000
Languages: English, Italian, French, Spanish, Arabic, Japanese, Portuguese, Romanian and Turkish.
 Special sign-up bonus: 500$
Trading Platform:
The 24option.com platform is an online platform – there is no download required.  The platform provides easy-to-use trading tools that are quite intuitive.
The trading platform allows for the trading of indices, commodities, currencies, and stocks.  The indices include the Dow Jones, Nasdaq Composite, IBEX-35, FTSE-100, and more.  The commodities trades are gold and silver.  The major currencies available for trade are USD, EUR, GBP, JPY, and the AUD.  Some of the stocks traded include Google Inc., Apple Inc., Barclays PLC, British Petroleum PLC, and more.
Features:
24option.com is proud of their three-fold trading interface.  The three trading types facilitated by the unique interface are high/low, touch/no-touch, and in/out boundary trading.  The high/low trading is based on trader prediction whether the future market price will be higher or lower than the current market price.
The touch/no-touch trading allows the trader to put money into specific directional market revaluations.  The outcome of the trade is dependent if the market price hit a specific predetermined minimum (or maximum) value before the expiry date of the option.
The in/out boundary option is based on the predicted standard deviation or variance of a given asset over a period of time.  The outcome value is therefore based on the prediction accuracy.
24option.com has a well-designed account-viewing page.  The page displays all the closed options, open options, history, and other important information in a clear manner.
24option.com has a very secure platform.  All the necessary pages are encoded with proper SSL inscription; prior to withdrawing money, one is required to provide authorized documentation in order to prevent fraud.
Customer Service:
24option.com has a 24-hours-a-day, 7-days-a-week customer service that is available in 9 languages via chat, e-mail, and phone.  They have 10 international numbers in 10 different countries so that traders are not forced to make long-distance calls in order to contact the support.  From our test their team is knowledgeable and easy to deal with.
Usability:
Registration with 24option.com is a well designed and easy to perform process.  They provide understandable on-site assistance for troubleshooting.  The site is clear and user friendly and includes a very well-interfaced FAQ section.  The website also includes a manual about binary options investing including a binary options terms glossary.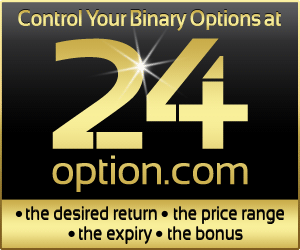 Conclusion:
With the three-fold trading interface and relatively low minimums for trading and depositing, 24option.com is a great online binary options trading site.  Though usable even by beginners, their high 89% returns prove that even the top traders are using their software as well.
Try binary trading with AnyOption